In this play area, full of surprises, "Fun with Language" offers different thematic alcoves, as well as games from around the world, including a giant Scrabble game and a relaxation area so you can enjoy a little break during your visit.
Slang
What is slang? What is its purpose? What is a magic word? Where do swear words come from? Why do neo-tribal languages exist?
Good and bad uses of language
Magic words & taboo words
Fun languages invented for communication within a group
Language games
Codes
Dive into the exciting world of codes and decoding. With or without a machine, learn to decipher the mythical codes that have played a role in history.
The Enigma machine
Different types of coding: Caesar's code, the Vigenere Cipher, Morse…
Job focus: Spy
Shibboleths
Humour
Humour and language are closely connected, discover how these mechanisms work and examples that will make you smile.
Humour with and without language
Some examples
Lies & forgeries
Enter the world of forgers: lies, weasel words, irony, forgery… and foil the world-famous plots such as the case of the Queen's necklace, the Dreyfus Affair…
Lies
Speech acts
The polygraph
The blacksmith
Proverbs
" To take to one's heels", "A rolling stone gathers no moss"… Enter the amazing world of proverbs and find their origin.
Names, addresses & acronyms
We use them every day, and we still do not know their origin and meaning. Get to the heart of the history of names, surnames and acronyms.
First names
Surnames
Different address formats
Acronyms
Other invented languages
In order to transport us to another world, imaginary or real, languages have been created or recreated … Discover Qenya or Goldogrin, Elvish languages, or Klingon (Star Trek) without delay…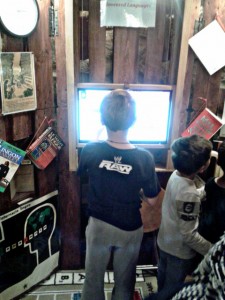 Catalogue of invented languages
Gibberish / Charabia
Recreated languages
Gameshows
Find word games around the world with a unique selection of game shows! Countdown or Pyramid will never be the same again!
http://www.mundolingua.org/wp-content/uploads/2013/09/logo_mundolingua-300x70.png
0
0
catherinej23
http://www.mundolingua.org/wp-content/uploads/2013/09/logo_mundolingua-300x70.png
catherinej23
2013-10-05 05:32:21
2017-05-05 09:18:21
FUN WITH LANGUAGE / Basement